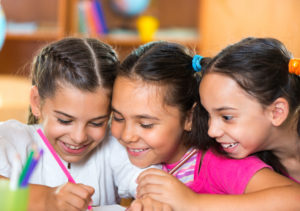 Transformational Learning & Coaching, Inc.(TLC) has helped thousands of students over the past 8 years overcome their fear of writing and speaking in English. As a federally approved provider of after school supplemental educational services under Title I, No Child Left Behind, TLC worked exclusively with Title I low income students who were struggling in school and at risk of failing. The majority of these students were immigrants or the children of immigrants who were learning English as their second language. Through its program, +Writing & Reading Specialists, TLC was able to help students become confident in their language skills, get better grades in school, and achieve higher scores on state tests.
+Writing & Reading Specialists was the first program of TLC. In 2008 it became certified by the Public Education Department of New Mexico to offer supplemental educational services to students in Title I schools who scored below average on state standardized tests. During this time, it worked with students in the school districts of Santa Fe, Albuquerque, Gallop, Deming, Las Cruces, and Gadsden.
In 2013, based on its success in New Mexico, +Writing & Reading Specialists became certified in the states of MT, CA and WA. As an approved provider of supplemental educational services, +Writing & Reading Specialists, using the Incite to Write curriculum, achieved a 97% success rate in improving students' scores on state standardized writing tests and writing prompts. In addition to language acquisition skills, students learned to use the process of inquiry to sharpen their critical and creative thinking skills, and to become observant, curious and responsible participants in their educational journey.
With the end of NCLB legislation in 2016, and thus the end of the federally supported supplemental educational services program, TLC embarked on a new path with the creation of the Storytellers & Writers program. This innovative and much needed program addresses the academic needs of ESL students that TLC encountered during its 8 years of serving Title I students under the federal program.